Events & opportunities:
Meeting: Virtual quarterly informal briefing on the Global Compact on Refugees,
30 March 2022
[
info
]
Call for applications: Research Chair on Forced Displacement in the Middle-East and East Africa, Saint Joseph University of Beirut [
info
]
- Four researchers will be recruited to contribute to the activities of the Chair, the theme of which will be "From refuge to return: Inter-cultural dynamics, well-being and social rights." Apply by 31 March 2022.
Job announcement: Chief Executive Officer(s), Asylum Access [
info
]
- Apply by 29 April 2022.
Blog posts & press:
Addressing Global Refugee Issues in a Troubled World (Global Governance Forum, March 2022) [
Part I
] [
Part II
]
"Beyond Ukraine: Eight more humanitarian disasters that demand your attention,"
The New Humanitarian
, 7 March 2022 [
text
]
Designing with data — 4 principles and a cheat sheet (UNHCR Innovation Service, March 2022) [
text
]
"How talking about 'humanity' and not 'crisis' can aid all refugees right now,"
The New Humanitarian
, 29 March 2022 [
text
]
Refugee-adjacency and the unrecognised grief of those left behind, part 2 (Refugee History Blog, March 2022) [
text
]
What classic literature knows about refugees fleeing persecution and war (The Conversation, March 2022) [
text
]
Reports: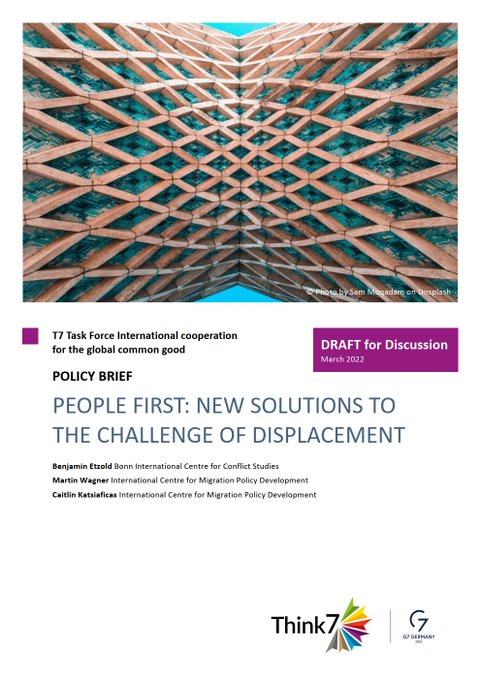 83rd meeting of the Standing Committee, 8-10 March 2022 [
access
]
- Follow link for documents in English and French.
A built environment perspective on post-disaster and conflict-induced displacement (REGARD project: Rebuilding after Displacement, Feb. 2022) [
text
]
Guidance for Responding to Displacement in Urban Areas (UN-Habitat & UNHCR, 2020; published in 2022) [
text
]
Outcomes of the High-level Officials Meeting 2021 (UNHCR, March 2022) [
text
]
- Note: The meeting took place 14-15 Dec. 2021. See also this
related summary
of key recommendations and follow-up actions.
People First: New Solutions to the Challenge of Displacement (TRAFIG, March 2022) [
text
]
- Draft policy brief that will be introduced and discussed at the Global Solutions Summit on 29 March 2022. A final version will be shared after the summit.
The Prevention of Arbitrary Displacement: A Temporal Understanding, RID Working Paper, no. 18 (Researching Internal Displacement, March 2022) [
text
]
Strengthening COVID-19 vaccine demand and uptake in refugees and migrants: an operational guide to support all those responsible for planning and implementing the rollout of COVID-19 vaccine to refugees and migrants at national and local levels (WHO, March 2022) [
text
]
Why people migrate: Insights and key messages drawn from a decade of MMC research and 4Mi data collection (Mixed Migration Centre, March 2022) [
text
]
Multimedia:
Development Aid to Obstruct Refugee Movements, 13 Jan. 2022 [
access
]
How Do We Best Respond to Global Displacement? A Panel Exchange with UN High Commissioner for Refugees Filippo Grandi, 8 March 2022 [
access
]
Human Rights Defenders: The Challenges on the Ground, at Sea, and in the Camps, 27 Jan. 2022 [
access
]
Related post: